There is no doubt that 7-series is the BMW flagship and the Munich-based car
maker has always gone on to great lengths to make it as great a rival as it could
be to the standard bearer of this class of automobile which remains the S-class
from its Stuttgart rival Mercedes-Benz but it goes about doing it bit in a manner
which the S-class just can't hack it in equal measure: athleticism! This term can
also be made to hint at a modicum of sportiness which is manifest in a large
measure on the latest 7-series which I got to experience in Portugal last month
and having driven the magnificent 8-series cabrio a day earlier, I knew that this
7-series review had to be done in a two-part manner now that I had experienced
this rather long (5260mm) and wide (1902mm) and heavy automobile.
The duo-role that I wanted to try the new 7-series was by means of positional
play, one behind the wheel of this new machine and second was by means of
wafting in the rear seats just as most fat cats would consider it as prime
application in India. First off this isn't an all new 7-series but a mid-life refresh
with an all-new large fanged front end that is certainly more Chinese and with a
plasticky adornment to the famed BMW-kidney grille. This is an acquired taste
but over the course of the two days that I spent driving and being driven in it, I
kind of got used to taking it in my stride and not being offended as to how could
Munich do this to themselves! It is a cultural shock when faced with a grille (now
single-piece framed unit) that is 40 per cent larger than before and just to
balance that the designers had to also increase the size of the BMW propeller
logo on the bonnet – up to 12mm larger in diameter according to the BMW
spokespersons. If that's not all, thanks to the dictates of the new front-end
aesthetics, the body at the emblem level is now 50mm taller than before.
The front end though also has a large busy air dam and with the new trim and
slats on the bumper makes it even wider and aggressive. The bonnet also has a
new take on the flame surfacing flared approach pioneered by BMW nearly two
decades ago but these are now far more subtle and also very much in sync with
the minds that have got to liking what everyone canned Chris Bangle for! Having
said that and I must digress here, word has it from very high up in the BMW
design hierarchy that it was Adrian van Hooydonk and not Chris Bangle who
came up with the flame surfacing aspect but then Bangle was his boss at that
point in time and he liked it, many in the BMW management team liked them and
thus they got the green light. Of course flame surfacing polarised many in the
automotive world then but the best proof of its acceptance was when other car
makers began to be inspired by this and it caught on like a wild fire but then
that's another story altogether!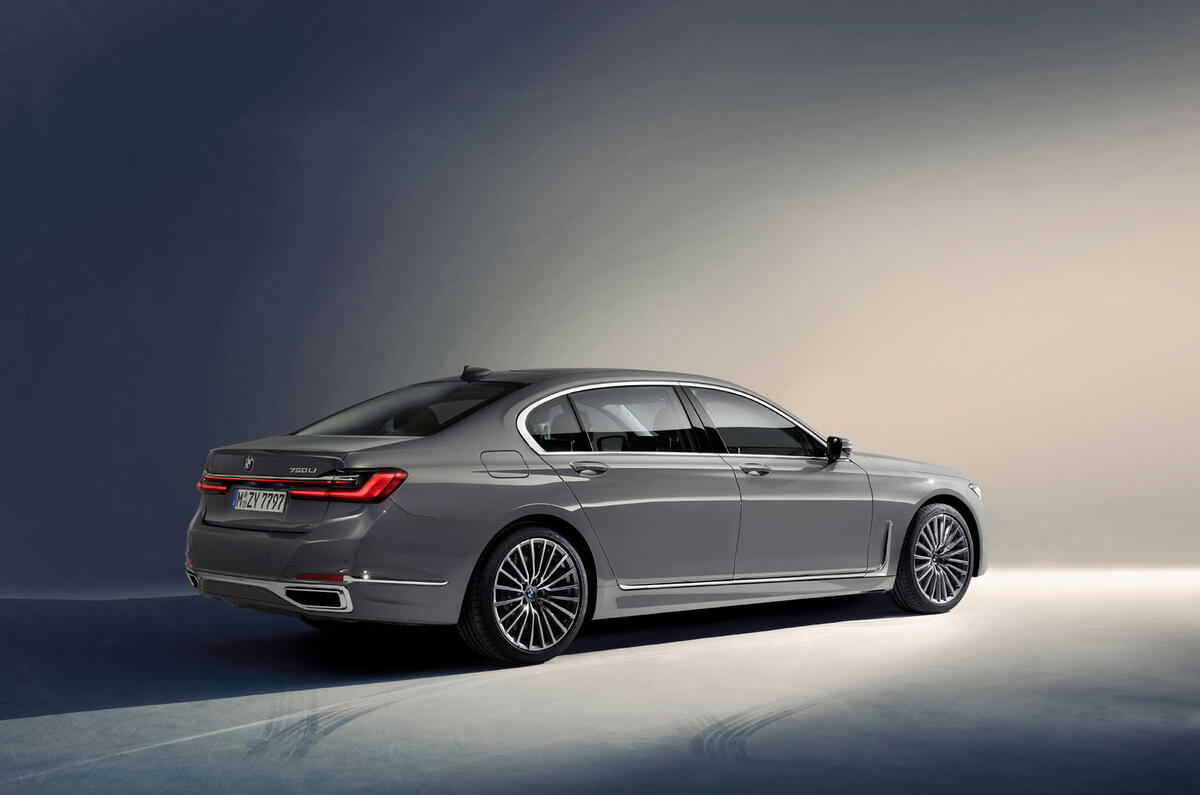 The rear end is distinctive enough as well with a slim line full-width light strip
immediately below the chrome bar and this houses the daytime driving lights.
There is also a new design tail lamp cluster replete with a new three-dimensional
LED element in there and to round off the sporty aspect of the package that has to denote BMW there is the bottom bumper cladding that houses the two stylish
exhaust openings which are wider and slimmer to get the style flowing.
The new 7-series range starts out with the 6.6-litre V12-powered 760i but there
are models with a V8 mill and an inline six-cylinder (of course!) as well, all of
them sipping petrol. This isn't to infer that BMW has forsaken diesel and there is
a choice of three diesel engines with up to four turbochargers making for a
power range spread from 265bhp to 400bhp. And if you need even more variety
then there is a plug-in hybrid with the inline six giving it a 50-58km all-electric
range. All engine variants meet the new Euro 6d-TEMP exhaust emissions
regulations and all of them make use of a new quick-shifting 8-speed
transmission that drives the rear wheels or all wheel drive when specified with
the X-Drive system.
What we got to drive and experience though was the 750Li equipped with the
brilliant 4.4-litre V8 that has now been upgraded to deliver an extra 80 horses,
bumping up output to 530bhp (made in the range of 5500-6000rpm). However it
is the whopping 750Nm of torque that provides the silken touch to the iron glove
and sustains it from 1800 to 4600rpm. The 8-speed transmission is quick and
changes from cog to cog on forward progression that belies imagination so that it
doesn't upset the sethia sitting in the rear doing his mega deals. In case you are
the number crunching sort, how does zero to 100km/h in 4.1 seconds sound,
especially for a car tipping the scales at 2075 kilos?
Add to the above are the fabled chassis technology and manners that underlines
a BMW and that is the mannerism of the car and also the control that delivers the
ride as well as the handling without compromising one or the other. Credit this
to the adaptive suspension and twin-axle air suspension that come as standard
while Integral Active Steering and Executive Drive Pro with active roll
stabilisation (both high priced options) make for pure joy, especially when
barrelling through twisty mountain roads as we experienced in Faro, Portugal.
The interior is typically BMW and not much changed from the original iteration
of this 7-series generation save for the newer steering wheel with differently
abled controls to take into account the provision for some autonomous driving
and while I felt at ease with all of it, somehow I felt that the instrument cluster
seemed too tame or flat for what was otherwise a technologically proficient as
well as a very well outfitted luxury liner on four wheels. So to the first part of my
drive review was all to do with hustling the car and I wasn't disappointed to say
the least. The engine whips up its horses and once the torque comes into play
this big brute makes its pilot feel as it he was hurling a sports car through the
bends! The prodigious amount of grip courtesy the optimised suspension and its
new geometry plus componentry aided by the 245/45 R19 radials makes this big
behemoth defy the laws of physics every time I pitched it into slow or fast
compound corners and the car seemed to literally dance to its partner's inputs! If
that wasn't all, the new electric power steering with its Servotronic function and
the Integral Active Steering dialled it made it just perfect for whatever occasion
you were driving the car in – eager, pacey and urgent and the steering was able
to match it; languid, wafting over rippled roads and the steering and ride rose to that occasion. Uncanny yet brilliant! On top of that the braking ability was
superlative and yes this was Munich at its best even under hard retardation from
close to double ton up speeds, the 750Li stopped sure and true without upsetting
any feathers of the big suit at the rear.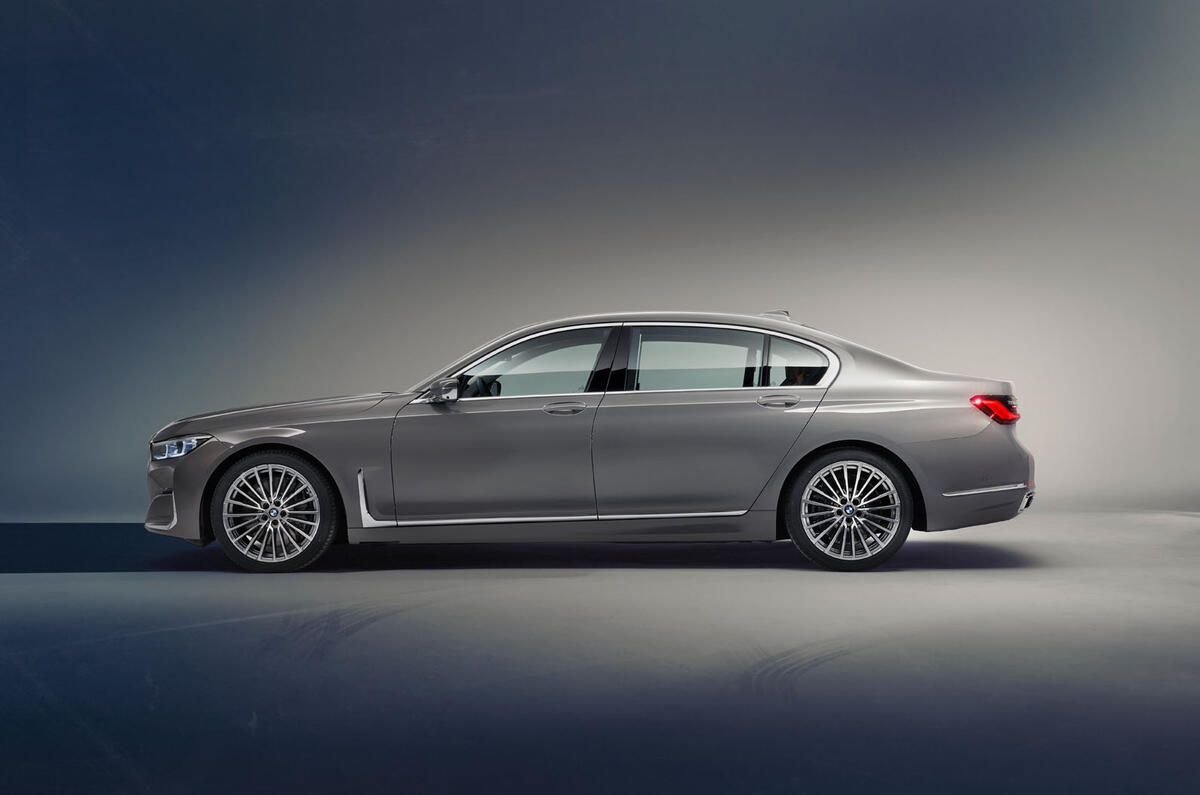 This mighty capable car in the dynamic department will however never be used
in this manner by its intended user here in India for this car would be all about
comfort and luxury for the back benchers who would be writing out the big
cheques to buy it and deliver big time glee to their chauffeurs to take the helm. I
had the gallant and highly capable Kushan Mitra as my partner in crime
exploring the limits of the 750Li and when he was hustling the car in the manner
intended and described above, I could assure you that he was as good or bad a
driver as I was but also thoroughly ludicrous if ever he had to chauffeur the
Prime Minister in it! Once it had been established that both of us weren't cut out
for chauffeuring duties, we tried to make a virtue of spiritedly sane driving (if
ever there is such a term when you have a car like this) and I got into the rear
seat and in both the comfort as well as the comfort plus ride modes, the
commute is velvety soft. Throw in a cabin that is acoustically configured to keep
out road, tyre, wind and mechanical noises from outside to delivering a soothing
atmosphere while given the news that the stock markets have collapsed, this is
the place to be in when that's delivered! The BMW boffins have truly upped the
game in not just the getting the structural integrity right but also ironing out the
NVH massively to near about non-existent levels.
This then is BMW at its very luxurious and technological best and this car is
coming to India with probably a diesel-engine version as well. One doesn't talk
trifling stuff like price or such but let me tell you that whatever might be the
crore or crores you might need to shell out, this car makes a statement that it's
worth it! Nuff said!